Salesforce CEO Marc Benioff exclaimed that San Francisco is the "#1 AI City in the world." While there is a ton of incredible AI innovation happening around the globe, it's true that there is an AI boom happening in the Bay Area. A few months ago, Brookings Institution found that 25% of generative AI job postings in the U.S. were posted in the Bay Area. What's especially exciting is how fast these companies are growing. Consider how ChatGPT, developed by OpenAI, hit one million users in just five days—a truly impressive feat.
It's no surprise then that AI was one of the key themes at TechCrunch Disrupt two weeks ago. I attended a panel with speakers from NVIDIA, Runway, and Wonder Dynamics discussing how generative AI will impact the entertainment industry, an especially fraught issue that affected the SAG/AFTRA writer's strike. John Spitzer, vice president of developer and performance technology at NVIDIA, emphasized how AI will help free up people's time for more interesting work: "The creative part is not going to be replaced by a computer. It's the drudgery, it's the tedium that is going to be taken away so that people can be more creative."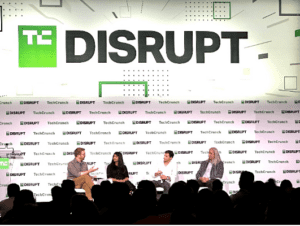 Snapshot from the panel "Lights, Camera, Algorithm! Where AI Fits into Movies, Games and Creativity."
Even basketball star Shaquille O'Neal was at TechCrunch Disrupt talking about AI. He explained that he only wants to invest in companies that are making a difference: "with so many AI companies coming out … if I do invest, I want to invest with one that's going to change people's lives." That's why he invested in an AI-powered reading platform called Edsoma that makes learning fun.
Accessibility was a hot topic at the event as well. Sandy Lacey, executive director of the Howe Innovation Center at the Perkins School for the Blind, highlighted how companies are using AI and other cutting-edge innovations to create assistive devices, navigation services, educational services, and much more. I appreciated how TechCrunch Disrupt used AI tools to help deliver a better experience for attendees. The organizers recorded many of the sessions using the AI transcription app Otter.ai. This allowed attendees to follow along with sessions in real-time and check out any sessions they had missed.
I also recently attended the AI Insight Summit: Navigating the Future of Artificial Intelligence. The speaker lineup included startup founders, VCs, and other innovators passionate about how AI is shaping the tech landscape. Derick En'Wezoh, an investor at Susa Ventures, discussed how generative AI can act as a co-pilot for physicians to help them with decision making—something that is especially interesting to consider for an industry that still uses pagers and fax machines in order to stay HIPPA compliant. En'Wezoh also mentioned how AI will be important to help close the equity gap in healthcare. Mark LaRosa, a partner at Amplify Partners, talked about the infrastructure challenges with developing Large Language Models (LLMs) and generative AI projects. LaRosa dove further into these challenges in a blog post outlining the hardware options for startups amid today's GPU shortage.
It's clear that AI is disrupting just about everything, including many sectors where AI is underappreciated. Things are changing fast, and I'm excited for the ride.